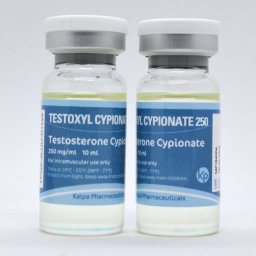 Injectable Steroids
Testoxyl Cypionate 250
Manufacturer: Kalpa Pharmaceuticals, India
Substance: Testosterone Cypionate
Pack: 10 ml vial (250 mg/ml)
Testoxyl Cypionate 250 Detailed
Testoxyl Cypionate 250 by Kalpa Pharmaceuticals
Testoxyl Cypionate is designed for quick gain of quality muscle mass. In this article we will discuss on how to use it and how to combine it with other anabolic/androgenic steroids.
Testoxyl Cypionate is drug of anabolic and androgenic spectrum activity. Produced in India. On production is engaged Kalpa Pharmaceuticals company. The active ingredient of the drug is Kalpa Testosterone Cypionate. Sold in the form of an injection. One factory package is containing 10 mL of the drug at a concentration of active substance by 200 mg/mL. The long carbon chain, makes it a drug of prolonged action. Its effect persists after completion of the cycle. However, Kalpa Pharmaceuticals Testoxyl Cypionate can cause water retention. The drug is often included enough in combined cycles. It is particularly effective in quick gaining of quality muscle mass. At present, Testosterone Cypionate, the price of which is quite acceptable, is considered one of the most popular steroids, for beginners and experienced athletes.
According to the effects of Cypionate, it is little different from the usual testosterone. Kalpa Cypionate 250 is also able to increase libido and correct sexual behavior. The only drawback of this drug is the high degree of aromatization. In order to avoid the accumulation of estrogen, you need to choose the right post-cycle therapy.
Testoxyl Cypionate Effects
Rapid weight gain. Often increased aromatization results in a rollback phenomenon. However, this can be avoided by taking anti-estrogens on the cycle as part of PCT. Because of estrogen conversion, this preparation is recommended for use on single cycles and is rarely used in the cyclic parts.

Improves effectiveness of strength training.

Increases in the number of red blood cells.

Regulates mood, increases aggression and motivation.

Accelerates recovery after workouts.
In general, the vast majority of athletes respond positively to the drug. First, they note a significant increase in strength and endurance. Muscle mass is added gradually, since Kalpa Test C 250 refers to sustained release preparations. The drug causes an increase in sexual desire. Some athletes notice rollback phenomenon, which is most often associated with non-compliance with the manufacturer's recommendations.
Testoxyl Cypionate Uses and Dosages
Testoxyl Cyp 250 can be taken in short cycles, and on long cycles. Minimum cycle is about a month, the maximum – three months. Selection the duration of admission is on the basis of individual performance. Recommended dose starts from 200 to 500 mg per week.
PCT After Testoxyl Cypionate Cycle
In the cycle of a month, particular PCT is not required. Only anti-estrogens. If the cycle lasts longer than a week, you need to take Gonadotropin (HCG 5000 IU, Pregnyl HCG, Fertigyn, HuCoG 10000 IU, HuCoG 5000 IU), 500 IU weekly dose.
Combination With Other Drugs
Testoxyl Cypionate solo is considered sufficiently effective. However, it can be combined with other testosterone esters. The most effective combination is with Nandrolone Decanoate. In this case, cycle duration is reduced to 6-8 weeks.
Please log in to write Testoxyl Cypionate 250 review.