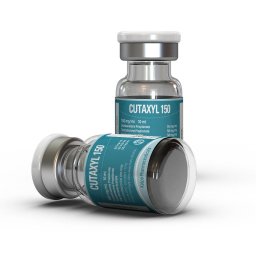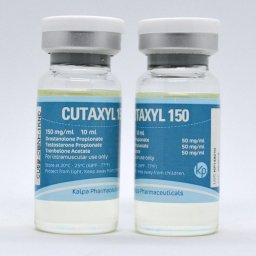 Injectable Steroids
Cutaxyl 150
Manufacturer: Kalpa Pharmaceuticals, India
Substance: Drostanolone Propionate, Trenbolone Acetate, Testosterone Propionate
Pack: 10 ml vial (150 mg/ml)
Cutaxyl 150 Detailed
Cutaxyl 150
Cutaxyl 150 is a product manufactured by Kalpa Pharmaceuticals which is containing a mixture of 3 different anabolic and androgenic steroids (AAS) all of which are considered to be extremely helpful for cutting cycles – for the training phase when the individual wants to get muscular definition, lean and shredded.
Cutaxyl 150 is the perfect product for such needs because it won't only greatly help you to lose body fat while you maintain muscle mass, but there's a very high chance you would add new lean muscle mass while using this product which sounds impossible doing it in natural ways.
That's possible because Cutaxyl 150 (where 150 indicates the amount of total steroids per each ml of Cutaxyl) is offering Drostanolone Propionate, Testosterone Propionate and Trenbolone Acetate – all mixed together.
Each of this famous anabolic steroid is containing 50 mg per ml and when mixed together, you receive a total of 150 mg of the steroid. 50 mg of Drostanolone, 50 mg of Testosterone and 50 mg of Trenbolone.
Also, each of these steroids are coming with a short based attached ester meaning that each compound would build up in the system and leave the system in about the same time.
Kalpa Pharmaceuticals combined all these 3 amazing steroids for cutting and getting shredded together selling them as Cutaxyl. The huge advantage of Cutaxyl is that you won't need to inject 3 different steroids but only inject one which means 3 times less injections while you receive the combination of these steroids.
Other than that, Cutaxyl by Kalpa Pharmaceuticals is a combination of steroids that is much cheaper compared to getting all these 3 steroids separately. So, Cutaxyl allows you to have one injection instead of 3 and is also great when it comes to saving money all of which offers Cutaxyl a huge advantage over other cutting products.
Anyway, for understanding Cutaxyl better, you need to better understand each product separately.
Drostanolone Propionate
Drostanolone is a famous medication for cutting cycles which is helpful for enhancing the effectiveness of other steroids while works as an aromatase inhibitor while is helping to burn body fat and maintain muscle mass.
The steroid might be better known as Masteron its trade name and this DHT – dihydrotestosterone derived steroid is mainly known for strongly binding to the SHBG – the protein hormone which is making other steroids inactive and since Drostanolone is binding to them – the steroids effectiveness is getting enhanced.
Plus to that, the compound is making you lose body fat and is increasing total testosterone levels too.
Testosterone Propionate
Low dosage of Testosterone is amazing for cutting cycles and is a known fact that Testosterone is the most important hormone for gaining muscle, getting muscle definition, losing body fat and many other benefits when it comes to physique and performance enhancement.
Testosterone is the hormone which can help with all needs when talking about gaining muscles, losing fat, maintaining muscle, protein synthesis, nitrogen retention and many others.
In short, testosterone propionate is a short esterified form of testosterone that is going to increase the total flow of testosterone in the body which is very important for every athlete and bodybuilder. The fast release of testosterone would offer quick buildup in the system and therefore fast results.
Trenbolone Acetate
Lastly there's Trenbolone which does not aromatize but is offering anabolic to androgenic ratio 5 times higher than testosterone of 500:500 making it one of the most powerful steroids and one of the best for cutting cycles as it helps to grow muscles and lose body fat.
Trenbolone is considered one of the most powerful and strongest steroids that you would use and being so powerful, is quite obvious that the benefits would be huge. The bad part of Trenbolone is the side effects, however, by using it properly, the side effects are no worry.
Trenbolone is a miracle steroid which has the ability to amazingly boost your muscle mass gains as well as strength increases. It offers fat burning properties as well. Therefore, Trenbolone is considered top 1 steroid for cutting cycles when you want to get amazing physique, strength levels, muscle definition and overall shredded.
Cutaxyl 150 Dosage
As mentioned, Cutaxyl 150 is offering 50 mg per ml of each steroid which means that a single ml of Cutaxyl administered provides you 50 mg of Trenbolone, 50 mg of Drostanolone and 50 mg of Testosterone.
This means that one ml administration per day is going to offer 350 mg a week of each steroid and that's going to be perfect for huge results.
Cutaxyl 150 is an oil based solution that is meant for intramuscular injection every day because of the short based esters attached to the main hormones, each of them offering a half life of 1-3 days maximum. That's why, if you want to maintain stable blood levels the compound must be administered daily.
And one ml per day of Cutaxyl is going to offer perfect results. Increasing to 2 ml a day would provide 700 mg a week of Trenbolone (and other 2 steroids) and that's the absolutely maximum dosage recommended. In fact, by far not everyone can tolerate such a dosage.
Cycle length is usually in the range of 4 up to maximum 8 weeks but 6 weeks is the perfect length for most people.
Cutaxyl 150 Side Effects
Cutaxyl is containing 3 different steroids, one of which is offering pretty nasty side effects – Trenbolone, so is quite obvious that side effects can be expected out of using this product, especially if not using it in proper doses and attempting to abuse it.
Taking in consideration that low – moderate dosages of Testosterone are very well tolerated by most people and Drostanolone is a steroid considered to be pretty mild, the side effects that you would experience are most likely the result of Trenbolone use out of the 3 steroids.
But, for example, androgenic side effects can offer all 3 steroids and a combined use of them can definitely increase the intensity of androgenic effects such as acne, oily skin, aggression, hair loss and others.
Estrogenic side effects are very unlike to occur taking in consideration that only testosterone aromatizes but Drostanolone works as an anti estrogenic compound. Natural testosterone inhibition, however, is very possible with this compound.
Women are very warned for virilizing side effects and generally there are other side effects possible not mentioned here such as cardiovascular negative effects, cholesterol negative effects and others.
Use supplements, do not abuse the compounds, have a healthy lifestyle and do not use it for long periods of time for staying away from side effects.
Please log in to write Cutaxyl 150 review.