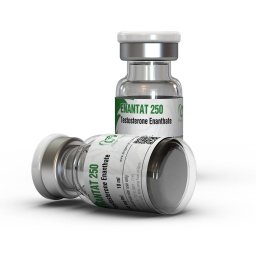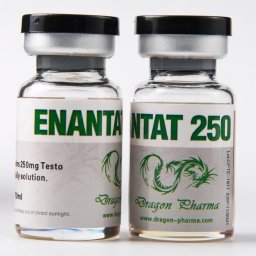 Injectable Steroids
Enantat 250
Manufacturer: Dragon Pharma, Europe
Substance: Testosterone enanthate
Pack: 10 ml vial (250 mg/ml)
Enantat 250 Detailed
Enantat 250 (Testosterone Enanthate)
General Description:

Enantat 250 (Testosterone Enanthate) Dragon Pharma is another one of the most popular and most used testosterone available. Enantat 250 is an oil-based form of testosterone with strong androgenic and anabolic effects. It aromatizes quite easily which means that the conversion rate to estrogen, similar to cypionate's, is relatively high. Many athletes report that Testosterone Enanthate stores less water in the body than cypionate does.

How to Use:

Doses are similar to that of Cypionate and Sustanon. Most users report solid gains using between 250mgs and 1000mgs of Enantat 250 per week. The distinct water retention has also other advantages. Those who have problems with their joints, shoulder cartilages or whose vertebral disks, due to years of heavy training, show signs of wear, can get temporary relief by taking testosterone.

Side Effects:

Testosterone enanthate's conversion rate to estrogen is very high. This, on one hand, leads the body to store more fat; on the other hand, feminisation symptoms (gynecomastia) are not unusual. However, it must be clearly stated that this depends on the athlete's predisposition. By all means, there are athletes who even with 1000 mgs or more per week do not show feminisation symptoms or fat deposits and who suffer very low water retention. Others, however, develop pain in their nipples using small doses.

Suggested Stacking Protocol:

Mass:
Mass building with all Testosterones is very effective. A simple stack of Enantat 250, Nandrolone Deconate and Anadrol yields quality mass. Nolvadex should be used to combat the water retention.

Cutting:
Testosterone enanthate, much like Testosterone Cypionate, is not really effective as a cutting steroid as the water retention is quite severe. Combing Enantat 250 with Arimidex and Nolvadex may help control the water retention and side effects. Sustanon or Testosterone Propionate are far better choices for Contest Prep.
Please log in to write Enantat 250 review.